Wholesale Screen Printing Services for Custom Apparel.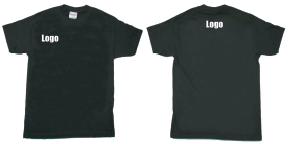 Total Exposure Designs offers wholesale screen printing services for personalizing tee shirts, polos, sweatshirts, totes, and many other products.
We offer specialty inks like glitter, shimmer, fluorescent and glow in the dark. We purchase t-shirts in bulk so that we can offer discount screen printing services to our customers with a fast turnaround. Our custom screen printing services are simply the best in the wholesale screen printing industry.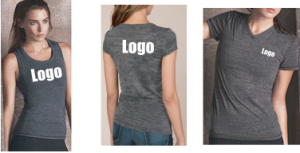 Our staff will help you select quality garments from our online catalog or other sources . Our screen printing designers are experienced with mixing fabric colors and ink colors to produce high quality garments with your custom design or logo. Our artists take pride in creating quality designs that exceed the customers expectations. High quality screen printing is Total Exposure Designs' policy, producing tightly registered, quality results at wholesale prices.
Screen Printing Sizes and Garment Locations
Where can I print on a specific type of garment?
The chart below lists the maximum dimensions for our most common print locations.
They are listed by type of garment followed by size category.
Can't find what you are looking for? Call us at 888-266.1595

T-Shirt Screen Print Dimensions

FRONT/BACK Locations
ADULT Full Front/Back
12.5″ WIDE x 14″ TALL
LADIES Full Front/Back
9″ WIDE x 10″ TALL
YOUTH Full Front/Back
9″ WIDE x 10″ TALL
INFANT Full Front/Back
5″ WIDE x 5″ TALL
CHEST Locations
Left/Right Chest
3.5″- 4″ WIDE x 8.5″ TALL
On Pocket
3″ MAX WIDE x 3.5″ TALL
SLEEVE Locations
LONG Left/Right
4″ MAX WIDE x 14″ TALL
SHORT Left/Right
3.5 – 4″ WIDE x 4″ TALL
Hoodies
ADULT Front
12.5″ WIDE x 8.5″ TALL
ADULT ZIP Front
12.5″ WIDE x 8.5″ TALL*
YOUTH Front
9″ WIDE x 5.5″ TALL
ADULT Full Back
12.5″ WIDE x 12.5″ TALL
YOUTH Full Back
9″ WIDE x 10″ TALL
* Allow 2″ in center for zipper.
Leg Prints
Left/Right Side
4″ MAX WIDE x 14″ TALL
Left/Right Thigh
3.5 – 5″ WIDE x 5″ TALL
Butt Print
10.5 – 11″ WIDE x 3″ TALL*
* Allow 3/4″ in center for seam.
Personalizations
Upper Back
MAX 12.5″ WIDE x MAX 2.5″ TALL
Left/Right Chest
MAX 4.5″ WIDE x 0.5″ TALL
Total Exposure Designs Custom T-Shirt Screen Printing Process for adding Ink to Shirts.
Screen Printing – Art
The Screen printing process is the procedure of pushing ink through a mesh screen with the design burnt into the mesh.
Ink is then pushed through the mesh onto t-shirts and other garments. Below we will take you through the steps we use to create custom screen printed apparel at Total Exposure Designs.
1. Designing the Art
It all starts with your ideas. Your idea is taken to our in house designers who make a computer generated version of that idea using Adobe Illustrator or Adobe Photoshop, incorporating the t-shirt color(s) and ink colors you have chosen for your order.
Once the design has been completed it is posted to the Art Approval Directory. Nothing is ever printed without the customer approval of the artwork.
2. Process the Art
Once you approve your design, it goes to our production artist, who take your design apart with a method called color seperation. Each color of the design will have its own screen. Before the production artist can take the design to the screen department they must print each color on a film positive.
3. Preparing the Screen(s)
Screen printing relys on well constructed screens. The film positives from the production artist go to the screen department, who prepares the screen by coating it with photosensitive emulsion. The color seperated positive is attached to the emulsion coated screens, and taken to be burned for tee shirt printing. This process is done for each color of your design.
The screen is placed into a unit that exposes it to ultraviolet light. The ultraviolet light burns the design into the mesh. Water is then used to remove the excess emulsion to let ink come through the screen. This is very important to get the best screen printing results.
4. Screen Printing Your Custom T-Shirts
Screen printing finishes by transferring the ink through the screen onto the shirt. To begin this process, the press is loaded with the mesh screens. Ink colors are then added onto the proper screens.
The screen printer then loads the t shirt making sure that it is even and sitting straight on the tee shirt platten. Once it is loaded properly the printer lowers the screen (or on the bigger presses, raises the shirts) and pulls the ink across the design with a rubber squeegee.
The t-shirt is then removed and placed on a belt that runs under a special dryer. This dryer will cure the ink at 320°F. At the end of the dryer, Quality Control inspects each garment to ensure the garment meets our high quality standards. Hope you have enjoyed this explanation of the screen printing process. Be sure and check out our other custom t-shirt decorating techniques. Digital Shirt Prints are great for high detail designs or low quantity shirt orders.
Screen Printing Ink Color Chart
Below you will find a listing of the screen printing ink colors that are available at Total Exposure Designs. Our wide range of bright, vibrant colors will catch everyone's eye on your custom apparel. We Use only Non toxic, non-phthalate inks. Need your color matched? Total Exposure Designs offers PMS Color Matching for no additional charge.
Broken Arrow also offers several metallic and fluorescent inks.
PLEASE NOTE – Due to varying monitor settings, the colors represented on this screen MAY NOT MATCH the actual ink colors on the garments.
This chart should be used as an approximate reference only.